Welcome Visitors!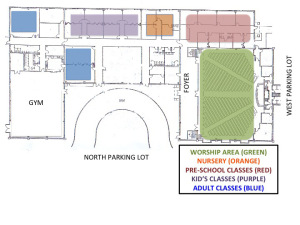 Here at the Benton church of Christ, we know that entering a new congregation for the first time can be rather daunting.  That's why it is so important to us that you feel welcome from your very first visit.
What you'll find here is a group of people from all walks of life bound in our common love for God and for each other. We believe that you will find our worship gatherings full of joy and praise and stimulating to your worship and growth as a follower of Christ.
But our congregation is more than just meeting at the right time and the right place.  Whether it is serving together in one of our many ministries, sharing a meal together as a church family, or participating in our many social occasions, our church is a place where you can live our Christ's calling on your life in a community of Spirit led believers.
If you are thinking about coming to visit, you probably have a few questions.  Here are some answers to ones that are asked most.  If you have any other questions, please call one of our friendly office staff or feel free to ask when you come and visit.
[box type=notice]View our responses by clicking the + on the far, right side. [/box]
[accordion title="WHERE TO GO WHEN YOU GET HERE"]
While most people park on the West side of the building, many others park on the North and East side of the building as well.
[/accordion][accordion title="WHAT SHOULD I WEAR?"]
As long as you are dressed modestly, you can "come as you are." We are far more concerned with what's going on inside than what you look like on the outside.  Many of our men wear a suit and tie on Sunday mornings while others prefer jeans and tennis shoes.  You'll find both on any given Sunday. Some of our women wear Sunday dresses and others wear pants.
[/accordion][accordion title="WHAT IS THE WORSHIP LIKE?"]
Our worship assemblies are simple and reverent.  When you visit you will hear a lesson that is applicable to daily life and rooted in Scripture.  We also have many prayers.  We take the Lord's Supper and give of our means every first day of the week.  In our assemblies we also praise God and encourage one another by singing without musical instruments.  We sing songs that have stood the test of time as well as more contemporary ones.  If you've never experienced a good a cappella worship, we think you'll find it extremely encouraging.
[/accordion][accordion title="WHAT ABOUT MY KIDS?"]
We love kids! We have multiple opportunities for your children to participate and learn how to follow Jesus. Classes on Sunday morning begin at 10:15 and continue to 11:00. Our children ages 2 and under are kept in a safe and clean nursery staffed by a loving group of volunteers who provide the exceptional care for your "little ones."
Kids from ages 3 all the way up to High School have classes that are fun, educational and applicable to daily life and circumstances.  We are proud of our customized Sunday school curriculum that takes the kids through the entire Bible multiple times by the time they graduate out of our program.[/accordion][accordion title="ARE THERE CLASSES FOR ADULTS?"]
One of the greatest blessings of the Benton church of Christ is a wealth of outstanding teachers. Our Sunday and Wednesday night classes offer a wide range of classes for adults of all ages and spiritual maturity levels.
[/accordion][accordion title="WHAT ABOUT COMMUNION?"]
Each Sunday we take Communion, also known as the Lord's Supper.  We invite all Christians to share this communal meal with us as we remember our Lord's death, burial and resurrection.
[/accordion][accordion title="WILL I BE ASKED TO GIVE?"]
Offerings are given as an act of worship for those who regularly attend Benton church of Christ.  We teach and believe in Biblical stewardship.  For new visitors, your presence is a gift to us. We want you to be blessed without feeling any obligation to give.
[/accordion]